Draw lengths can impact aiming and shooting accuracy. That is why you should know how to change draw length on a compound bow according to your physique. A misfit bow with the incorrect draw length that doesn't match your body stature will fail to provide stability and precision with the shots. Hence, it is crucial to adjust these variables.
A compound bow features modules and cams that allow adjustability of the draw length. The process is not highly complex but archers could take some time to understand the system before adjusting it.
If you are not sure about your skills, it is better to take the bow to a professional. Here is an expert guide with detailed tutorials that will help you learn how to adjust draw length on bow.
Fine Tuning – How To Change Draw Length On A Compound Bow?
Very few compound bow models come with a non adjustable draw length feature so, make sure to check it before purchasing. For example, some models from Mathews Solocam compound bows cannot be adjusted for draw length. The models featuring 'StraightLine' MaxCam are specific to draw lengths hence, are non adjustable.
Initially, you might need some help from a bow technician. However, after you understand how to change draw length on a compound bow, you can conveniently do it yourself.
Some models have cams for adjustments whereas newer ones come with a modular system. The system either includes multiple modules that are specific to different draw lengths or a single module with various adjustments.
Measuring Draw Length
Before adjusting the draw length, you must know how to measure it. The simplest way to determine it is through the wingspan method. Here is how to do it.
Stand with your back straight and arms stretched out.
Measure from the tip of the finger of one hand to the other.
Don't over-stretch your arms, be natural so that you get better results.
Divide the reading you get on the measuring scale by 2.
The final value is how much your draw length is.
Note that these numbers are just a close approximation of your draw length and could slightly vary.
How To Adjust Bow Draw Length
Following are the three major mechanical parts that allow archers to adjust the draw length of their compound bow. The cams have either replaceable or adjustable modules. The process for changing the draw length is different with each part.
1. Replaceable Mods
Generally, the latest, high end compound bows come with replaceable modules. As the name refers, these mods have an affixed value and need replacement to change the draw length.
Very few top tier models include multiple modules in the package. Otherwise, you have to purchase these separately. Depending on the draw length value and quality, replacement mods can cost between $10 to $30.
Since replaceable modules are specific to draw lengths, you can use the manufacturer's guide to find the right mod. Another way is to take your bow to a local archery shop and the bow expert there would show you the right module.
Changing The Draw Length
If the modules on your bow don't rest on the cables, you can exchange them without requiring a bow press. However, if they do, a bow press is needed for the replacement.
For the modules that are cable free, all you need to do is open the mods by detaching the screws. Now add the new mod in the place and screw it back. In case your bow has two modules, you have to change them both in the same manner.
However, if your compound bow mods have cables attached, it won't be possible to change them without a bow press. This procedure is pretty complex and only a few professionals can perform it on their own. That said, it is best suggested to take your bow to a technician for expert handling.
2. Adjustable Mods
These modules come with multiple holes for different draw length adjustments. With the configurable mods, there is no need for a bow press. To allow the archers to adjust the draw length, these holes are labeled with numbers or a code.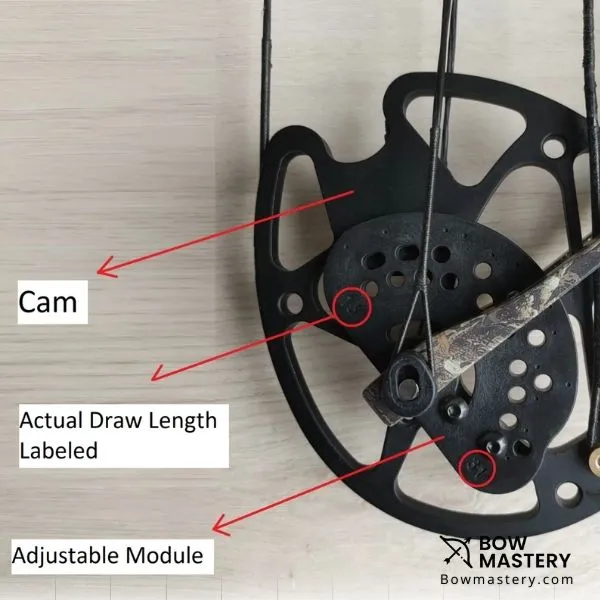 The numbers reveal the exact draw length that a particular module offers. Whereas, the alphabetic codes could have other meanings. It is best to check the user manual before assuming anything yourself for the appropriate adjustments.
Every manufacturer has different labeling systems. While number codes are simple to understand since they are labeled exactly for the draw length. Speaking of alphabetic codes, these could denote different draw lengths. For instance, the alphabet A might code for a 22" draw length whereas, B, C, and D for 23", 24", and 25", respectively.
Since every company has different alphabets for different draw lengths, you must read the user guide to interpret these. In case you cannot find the guide, try changing the mod from start to end and determine the pattern.
Changing The Draw Length
For an easy configuration, loosen the screws on the modules. Now twist the mod to change the draw length as you want, and tighten back the screws. If there are two modules on your bow, repeat the process with both of them.
Ensure that the screws are taut so that they don't come out because of lots of vibration while shooting.
3. Replaceable Cams
Older models of the compound bow have replaceable cams. Just like the replaceable mods, these require an entire exchange of the cams as well. Because the cams have several strings and cables attached to them, you can't replace them without a bow press.
Dual Vs Single Cam Bows
A dual-cam bow has two cams, one on either of the limbs. Because of two cams, the bow is extremely fast but less accurate. Though these are highly robust, dual-cam bows make lots of noise during use. When changing the draw length, adjust both cams equally.
Whereas, bows having one cam are known as single-cam bows commonly on the lower limb. The cam boasts an elliptical shape whereas, the other limb has a round wheel without the cam mechanism. A single-cam bow is slightly slower but a lot more accurate and quieter than a dual-cam bow.
Draw Stoppers/Limb Stoppers
Draw stoppers are added to the cams in order to five a harder back wall with better consistency while shooting. Here is how you can attach draw stops to the bow cams.
Limb stopper on the other hand stops the limb from moving further after a certain point. Bows with a limb stop will allow you to pull the string even harder despite reaching he complete draw.
Changing The Draw Length
Cams also come with labels that are coded for particular draw lengths. You can crack the codes using a user guide that came with your bow. Loosen the screws of the cams, twist and adjust to the label that corresponds to your desired draw length and tighten the screws back in.
Changing the cams on your compound bow can be more expensive than replacement modules i.e., from $50 to $200.
Useful Tips To Consider While Adjusting The Draw Length
The bow or its components can get damaged if you don't adjust the draw length with care. Same goes for draw weight adjustment on a bow. Here are some tips and tricks that you should always keep in mind while setting a new draw length on your compound bow.
1. Always Check The Manual
The mechanical parts of a compound bow make it quite complicated especially for new archers. It is important that you know your draw weight as well as draw length. For that learn how to measure bow draw weight. Similarly, you need to understand how to change draw length on a compound bow, refer to the user manual.
Every manufacturer provides a detailed guide addressing every issue that a user might encounter with the bow. Speaking of the modules or cams, you can find even the tiniest detail about adjusting or replacing them.
These manuals also have codes that are labeled for different draw lengths. It helps the users to choose the right code for their desired draw length.
2. Don't Over tight The Screws
Screws are the most essential parts of a bow. When detaching the screws, make sure to keep them somewhere safe so you don't lose them. Finding a replacement for the screws holding the cams and mods is nearly impossible.
Moreover, when reattaching these, make sure to secure these firmly. Don't leave the screws loose as well as don't overtight them. Doing so will make drawing the string difficult and impact performance.
3. Carefully Draw The Bow After Adjustments
Before you make the first draw after adjustments, double check everything on your bow. These include draw length configurations, screws in place, and string alignment.
If you have a dual cam bow, check if both of them are appropriately adjusted so that they synchronize with each other. I personally have made backyard practice targets to experiment after adjustments. You can learn how to make an archery target to practice your adjusted bow and arrow at home.
4. Consult A Bow Expert
Are you unsure about how to change draw length on a compound bow? It is better to not give it a try especially if you are a newbie. When in doubt, head to the nearest local archery shop and get the configurations done by an expert.
Compound bows are quite advanced and might require tools that are available at archery shops only.
Conclusion
Many beginner compound bow archers find it difficult to learn how to change draw length on a compound bow. It is because the process varies based on the type of bow you own. If it is your first time, try choosing initial draw lengths.
Once you get a better hold, gradually go up with the draw lengths and make adjustments accordingly. If you have a newer bow, determine whether the modules are replaceable or configurable. However, for an older bow, you will only have adjustable cams.
Frequently Asked Questions (FAQ's)
How to shorten draw length on a compound bow?
Just like you increase the draw length for whatever type of cam or mods, repeat the same process but opt for a lower length. 
What is a bow press and how does it work?
A bow press is an incredibly useful tool designed to help with the repair and adjustments of a compound bow. It works by taking off the tension from the strings and cables of the bow. The bow press holds both the cams firmly in place, allowing you to perform all the draw length adjustments. You can also uninstall and reinstall the limbs using a bow press. 
Common Questions Explained by Bow Mastery Experts