Archery is not limited to a particular age group but is for all. Be it a pre teen kid or an adult, manufacturers have designed the best recurve bow for beginners belonging to different age groups. When it comes to purchasing your first ever recurve bow, things might seem challenging.
Beginner + Pro
Samick Sage Takedown Recurve Bow
The bow is great for beginner to adults, even can be used for bowhunting
Changeable takedown limbs (to increase weight) and separate bows for left/right hand users.
Sleeves are created (for accessories) but accessories not included.
The bow size (bow length) of 62 inch enhance stability and accuracy while shooting.
Beginner + Pro
Southwest Spyder Takedown Recurve Bow
64 inch bow height means better stability and precision.
25 lbs. variant is great for beginner adults. Limbs can be upgraded later on for more draw weight and bowhunting.
Local US made with buying option of stringer. Threaded bushings for accessories (accessories not included in package).
Southwest archery is trusted brand with experts from Samick Sage as well.
Editor's Pick
TIDEWE Beginner's Takedown Recurve Bow
Only right handed option available.
Draw weight ranges from 20 lbs. to 50 lbs making it usable for beginners and experienced archers.
Accessories include bow stringer, removable field tip carbon arrows, paper target & finger guard.
A signature bow hunting product from Tidewe (famous hunting & fishing gears brand).
The curve in the limbs of recurve bows is responsible for enhanced power, speed, and accuracy of the shots. Therefore, these are a lot more efficient and accurate as compared to the longbows. However, for even better results, one can mount modern accessories on their recurve bow such as stabilizers, peep sight, clickers, etc.
In 2023, the best recurve bow for beginners is the Samick Sage Archery Hand Takedown Bow. As per our research and testing, it is one tremendous bow with the finest features for beginners. With a wide range of draw weights to choose from i.e., 25 lbs. to 60 lbs., and max convenience to easy assembly and great power, it deserves all the praise.
Traditional Starter Archery Gear – Best Recurve Bow For Beginners
To get the right product, numerous questions pop into a beginner archer's mind; what should be my bow's draw weight? What draw length will suit me? Can I use it in my backyard or need a proper practice ground? Do I need to buy accessories? Will there be any other cost after buying bows and arrows? Keeping all of these queries in mind, we have shortlisted the best recurve bow for beginners.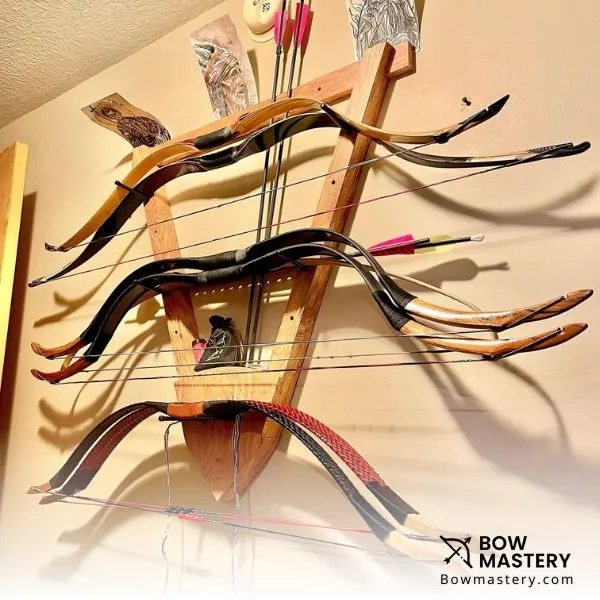 1. Samick Sage Archery Left/Right Hand Takedown Bow – Best High End Recurve Bow For Beginners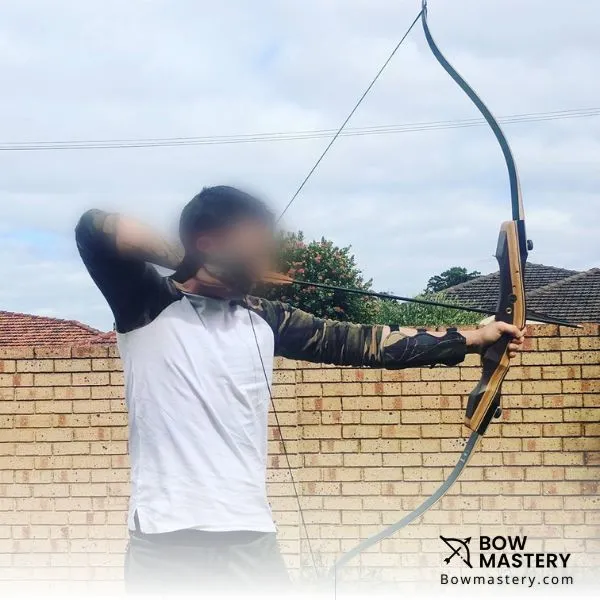 Right out of the box, this bow is extremely aesthetic with robust feels and we loved how light it weighs. Recurve bows are quite long and hence, its length measures 62 in. Speaking of the draw length, it is fixed at 28 in. which is sufficient for the novices. Unlike compound bows, you cannot adjust the draw weights in a recurve bow.
This bow offers a range of pull weights to choose from i.e., 25 lbs. to 60 lbs. with 5 lbs. Increments.
ProTip: Exercises to Improve Draw Weight Poundage and Pull Strength: Pulling the draw weight uses two most important muscles, upper body and back muscles i.e., thelatissimus dorsiis and infraspinatus, respectively. To pull heavier pull weights without any complications, these two muscles should be strong. The best exercise is the pull-ups to enhance your draw-weight pulling game.
Initially, we shot without any accessories and got decent results. I am 5'9" tall, weigh 183 lbs. and have good strength. That being said, I opted for the 35 lbs. pull weight and it was easy to pull. As a result, there were some good shots from 25 yds.
However, with the increased distance, the bow was hard to keep stable and it impacted accuracy. So, as per suggestion, we added stabilizer and peep sight to the Sage bow. Needless to say, we got 2 to 3 in. groupings from 50 yds. away which was also our max distance achieved.
We used the 30 in. SAS Courage Carbon Arrows with feather fletchings and these did a fine job. You might experience greater or lower max distance for accuracy due to the subjective draw weight that varies from archer to archer.
Overall, the Samick Sage is among some good beginner recurve bows for a reasonable price point. It is quite easy to assemble and disassemble. Unfortunately, the string did not feel to be a top notch quality and showed signs of threadbare after a couple of uses.
Recurve bows vary for women as per draw length, design and size. Thus, we have compiled some best recurve bow for women based on real time testing and comparative analysis.
Strength
Propels arrows with high power
Lightweight and ergonomic
Suitable for women and kids
Weakness
String quality could be better.
2. SAS XL Left/Right Hand Bow – Best Recurve Bow For Beginners And Intermediates
When searching for a quality bow that beginners can purchase without breaking the bank, the SAS XL becomes the number one choice. Similar to the D&Q Archery Bow and Arrow, this one also offers seven draw weights starting from 25 lbs. with 5 lbs. addition, up to 55 lbs. max.
This model is ideal for people that have a draw length of more than 29 in. Speaking of the total bow size, it is 64 in. which adults can easily manage. Ambidextrous hand orientation makes this bow a great deal for all. Its features not make it the best recurve bow for beginners only but intermediates too.
Though we attached the string without using any tool, if you have never done it before and want less hassle, you can choose the package that includes the stringer tool. It might add a few bucks to the total price.
It is worth noting that the bow comes loaded with numerous bushing for modern accessories. These include sight, stabilizers, plungers, fishing reels, and quivers. Unfortunately, none of these accessories come with the package and are to be purchased separately.
We tested both the right and left handed bows. After shooting a total of 140 arrows, only 3 missed the 12 in. x 18 in. target. Note that we made 12 yds. Setup and achieved max accuracy at 20 yds. with 30 lbs. XL bow.
Everything about this bow is appealing. If it doesn't come with accessories, you don't even need any except for the arm guard for personal safety. Else, the bow is stable and shoots with accuracy. The 64 in. bow size however could be too big for short height people. Here is when you can benefit from the takedown bow by replacing it with shorter yet compatible limbs. That said, its bad side can have a good ending.
Strength
Reinforced limbs offer better durability
Well suited for kids and adults
Good value for money
Weakness
New size might not suit shorter people.
3. TIDEWE Right Hand Bow and Arrow Set – Best Beginner Recurve Bow Set
Tailored to fit the needs of right handed archers, this is indeed the best recurve bow for beginners under a budget. You can choose the draw weight from seven options ranging between 20 to 50 lbs. with 5 lbs. increment.
The draw length is allotted at 29 in. whereas, the total bow size is 62 in. We truly liked how light the bow weighs when assembled. This made it easier for teenage scouts to easily manage it. It is worth appreciating that there was an easy manual guide with images to assist us in attaching the bowstring.
Moreover, the package included a special tool to attach the string which made the process even more convenient. This time we went with the 30 lbs. bow because the kid wanted to try it. The bow itself was super easy to manage and he could draw it effortlessly.
The gear was fairly stable so we didn't add a stabilizer but did add a peep sight for better aiming. He started shooting from 15 yds. and got a couple of decent shots. I believe that the bow was superb for a teenage boy but adults could manage higher poundage up to 35 or 40 lbs.
All in all, this is a good beginner recurve bow to start your archery with. However, one flaw of this bow is the poor quality of the arrows. Though these work fine for kids shooting at lesser distances, these might not work well at longer yardage. Remember, the string slaps so hard right after the release which can leave a bruise on your arm. Therefore, it is strictly advised to use an arm guard especially if you are a newbie.
Recurve bows are more of traditional non assisted archery whereas compund bows have a bit modern tech which helps more output in less input of force. Do check best compound bow for beginners if you are starting in your backyard.
Strength
Easy to manage by kids
Durable construction
Comes with important accessories
Weakness
Only for righties.
Average quality arrows
4. SAS Courage Left/Right Hand Takedown Bow – Best Beginners Recurve Bow For Hunting
Crafted to perfection, the SAS Courage takedown bow could be a great addition to your archery or bow hunting arsenal. It is designed to allow beginners to practice shooting as well as take it to the hunting grounds. The foremost reason why it is priced relatively high and is well suited for hunting is its exceptional pull weights which allow better accuracy at farther distances.
This model from SAS is available in seven different draw weights ranging from 29 lbs. to 60 lbs. There is an increment of 5 lbs. in the pull weights. The total bow length is measured as 60 in. which is perfect for amateurs. However, the two draw weights i.e., 35 and 45 lbs. have 58 in. longbows. For the draw length, it is 28 in.
It would've been a heartbreak if this superb bow wasn't available in an ambidextrous hand orientation. We are glad it is. With the 40 lbs. draw weight, we were able to shoot at a 2 ft. x 2 ft. target from 25 yds. Some of the crew members got amazing hits at 20 yds. distance, however, 25 yds. was max for accuracy.
Anything above 40 lbs. will require immense back body strength. If you wish to go heavy with the pull weight, make sure to perform pull-ups as a strengthening exercise. In most states, hunting with a bow exceeding 35 lbs. draw weight is legal. That said, you can use this bow for deer hunting. Make sure to practice for accuracy and various yardage so that you don't harm the animal but take it down.
While the bow works impeccably for different users. Be it a kid, teenager, or adult, the variety of pull weights and decent draw length make it the best recurve bow for beginners of different ages. The only issue could be its comparatively hefty price tag though a bit lesser than the premium Samick Sage Archery Bow. Both are exceptional in their performance but come with no accessories.
Strength
High strength wooden limbs
Easy tool free assembly
Lightweight with a comfortable grip
5. PSE ARCHERY Left/Right Hand Snake Bow – Best One Piece Recurve Bow For Beginners
A true traditional bow to help you learn archery, this one will bring immense joy as you use it. The PSE archery snake recurve bow is available for left as well as right hand dominant users. It is as light as 3.2 lbs. hence, easy to manage by the beginner including kids without causing muscle strain.
For the pull weight, the bow is affixed at 25 lbs. and can meet the archery needs of people having draw lengths between 27 in. to 30 in. max. Considering the supported draw lengths, the bow measures 60 in. total in length which seems fair for the newbies.
Featuring a classic one piece construction, the PSE archery snake bow doesn't come with any of the accessories. Though the riser features a small arrow rest, there isn't any bushing for the accessories to be loaded separately.
During our field testing, this bow stunned everyone with its accuracy without requiring additional attachments. Different members of the team took several shots from varying yardage. The initial shots were made from 12 yds which allowed us to hit the dead center without any issue.
Later, the yardage was increased to 15 yds. with similar results. The max distance where the bow propelled arrows with supreme accuracy was 20 yds. The crew members could achieve 1 to 2 in. groupings on the foam target hung on the tree.
There is truly nothing that would stop one from purchasing a PSE bow for beginner, an impeccable archery gear. Except for the fact that it is barebow but, since it lacks attachment points, you wouldn't have to pay extra to get any of those. That said, it could be a tradeoff for the superb performance it provides.
Strength
Excellent accuracy without attachments
Offers easy manageability
Comes in ambidextrous hand orientation
Weakness
No attachment points
Fixed draw weight
6. Tongtu Left/Right Hand Bow – Best Recurve Bow For Beginning Adults
New archers often don't know where to get the right accessories for their bow. That is when bow sets like tongtu come in handy. Priced lesser than most of the bare bows and one of the top TIDEWE Bow and Arrow Set, this one is a great cheap alternative and the best starter recurve bow for beginners including adults.
This product is available in two draw weights i.e., 30 to 40 lbs. which one can choose according to their strength. The max pull weight depends on how much force an archer applies to pull the string. That is why the max range for every bow varies from one person to another.
The 28 in. draw length is pretty good for novices and the overall bow size is 57 in. Being a takedown bow, we were concerned about its assembly. Fortunately, it is quite simple and comes with an easy instruction manual. A beginner can bring the entire bow together as well as attach the string without needing any tools.
Though an inexpensive bow, it includes useful accessories such as 6 fiberglass arrows, a finger guard, an arm guard, 5 target faces, and string nocks. I set it up in my backyard, a target at 10 yds., the arrows traveled amazingly fast and I got nearly 4 inch penetration into the 35 lbs. target bag.
Some of the members got a max accuracy range of 40 yds. with the 30 lbs. model. For me, the best results where I hit the bullseye of the target was from 25 yds. distance. The string of recurve bows is prone to slapping the arms so, make sure you use the arm guard to avoid it.
When used to hit the 35 lbs. target bag, some of the arrow tips came off after a couple of tries. Well, it wouldn't be fair to expect superior grade arrows with such a less pricey bow set. As long as it works for beginners at various distances, it is an impeccable deal. You can use paper or styrofoam targets for better arrow performance.
Strength
Ambidextrous hand orientation
Decent overall durability for the price
Hits fair distances with accuracy
Weakness
Not suitable draw weights for beginner kids
7. Bear Archery Titan Left/Right Hand Bow – Best Traditional Bows For Beginners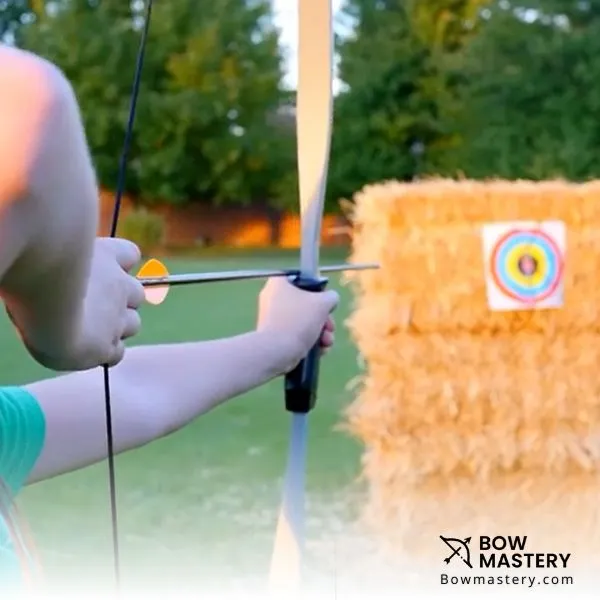 This product comes in a set as well as a bare bow only. You can make the choice based on your personal preference. We decided to perform field testing on the bow set. It comes with a few useful accessories such as two arrows, a paper target, an arm guard, a finger tab, and a quiver. What makes this bow unique from others is its ability to adjust the pull weight.
Unlike most recurve bows, it allows you to increase or decrease the poundage accordingly. The draw weight range is between 20 lbs. to 29 lbs. Whereas, the options for draw length are from 22 in. to 28 in. Being the best recurve bow for beginners, it comes with an easy-to-manage bow size of 60 in.
To ensure maximum convenience for every archer, this model is available in an ambidextrous hand orientation. Since it is a one-piece traditional bow, there is no need for assembly or disassembly. Its extremely light weight of 1.5 lbs. makes it an excellent bow for kids as well as adults.
As we tried this bow, we got some superb results with 28 in. draw length and 30 lbs. pull weight. The arrows hit the target with great speed from a distance of 50 ft. or 16.66 yds. The bow offers plenty of push which sends it to as far as 50 yds when handled by an expert. This was the range achieved by an expert team member.
Even though it offers relatively less draw weight, the 11 and 12 years old kid we tested with wasn't able to pull it even to their regular draw. Furthermore, the accessories it comes with, especially, the arm guard and finger tab are too small for adults. This will end up the user purchasing one as per their size, adding to the extra hidden cost.
Speaking of the overall performance, it is safe to say that this bow can manage longer distances with accuracy and speed. However, you must be careful with the additional accessories so you are protected during use.
Strength
Robust composite limbs
Adjustable pull weight
Extremely light in weight
Weakness
Younger scouts are unable to manage the draw weight.
Child size accessories
8. Deerseeker Left/Right Hand Takedown Bow – Best Beginners Recurve Bow For The Money
If you can't spend anything more than $100 on a good-performing bow, look no further than the Deer Seeker Takedown Recurve bow. The manufacturers have rolled out this model in multiple draw weights which people can choose according to their criteria.
For left handed variants, the pull weight ranges from 25 lbs. to 60 lbs. Whereas for right handed models, the minimum pull weight is 25 lbs. and the maximum is 55 lbs. The bow is well suited for people having draw lengths from 28 in. to 31 in.
While not many may expect but this product comes with some useful accessories under a reasonable price point. Alongside, it includes string, stringer tool, Allen key, arrow rest, arm guard, and finger tab. The bow is extremely easy to bring together and stringer tools make attaching string hassle free.
We tested this bow with a 14 years old teenage scout. He was a 5'3" boy and hence managed the 62 in. bow well. After multiple hits, it was observed that the archer found no difficulty hitting the target from 8 yds.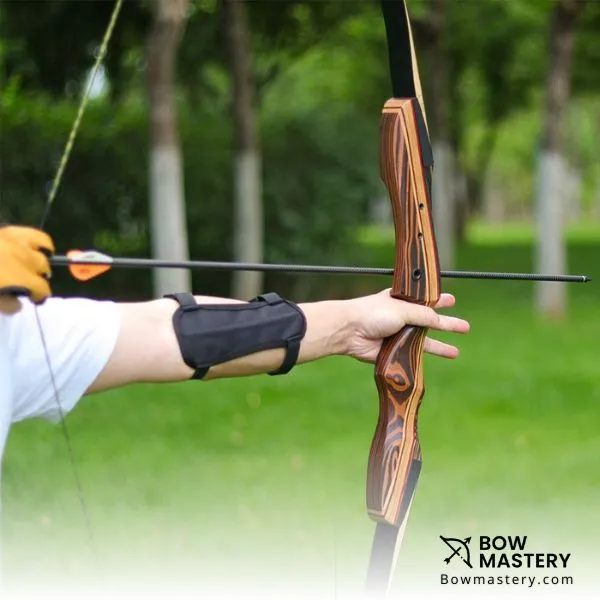 To examine the accuracy, we increased the distance to 12 yds. and the results were satisfactory. The archer lost accuracy beyond 16 yds. so the max range for accuracy was 16 yds. with 30 lbs. bow. Note that we used arrows with feather fletching as they are likely to offer better grouping.
According to our field testing, this bow shines bright for what it offers under a fair price tag. It works best for kids and adults, thanks to the wide range of draw weights available. The only issue we encountered was loud bow noise. To overcome this, we added brush buttons to the bow and it made a huge difference.
Strength
Multi laminated durable riser and limbs
Ideal for bow hunting and bow fishing
Superb value for money
Weakness
Slightly loud
Arm guard is child size
9. TOPARCHERY Left/Right Hand Takedown Bow – Best Recurve Bow For Beginners On A Budget
Priced the lowest among all other choices, Top Archery Takedown Bow one offers some amazing specs and ultimately, great performance. Our criteria was a budget choice with an ambidextrous hand orientation so that people with different hand dominance could test it. Additionally, you can choose the draw weight between 20 lbs., 30 lbs., and 40 lbs. We got the 40 lbs. variant.
Because of an ambidextrous hand orientation, this bow comes with dual arrow rest on both sides of the riser. The overall size of the bow is 57 in. which is easily manageable by beginners.
Being a takedown bow, it is quite easy to set up within 5 minutes. It comes with an Allen key which helps bring the equipment together without any inconvenience. For the setup in the backyard, we got the Morrell Outdoor Archery Bag.
A 13-year-old left hand dominant kid used the bow for the first time. All she could say was it is pretty light in weight and quite smooth. She shot the target bag with 3 to 4 in. groupings at 15 yds. distance. Since the draw length was 28 in., we opted for 30 in. carbon arrows with feather fletchings.
After the first six shots, we got an average arrow velocity of 147 fps which is fairly decent. On the contrary, as the distance was increased beyond 15 yds., there was a significant decrease in the overall accuracy.
Our team members also used attachments such as peep sight and stablizer but couldn't get better accuracy. That said, this bow would work for kids who wish to get into archery without investing tons of money. For adults, you might want to check other options such as the Samick Sage Archery Bow.
Strength
Dual arrow rest for ambidextrous hand orientation
Offers easy storage and transportation
Works well for preteens and teens
Weakness
Poor shot accuracy beyond 15 yds.
10. D&Q Archery Left/Right Hand Bow – Best Entry Level Recurve Bow Set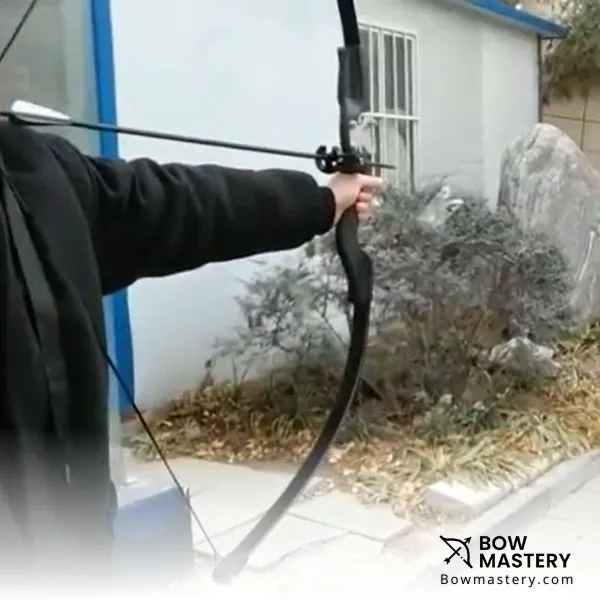 Priced slightly higher than its competitors, this one is a good starter recurve bow, especially for adults. The manufacturers have launched this product in two draw weights including 30 lbs. and 40 lbs. The draw length is ideal for a majority of beginners i.e., 29 in.
Takedown bows are our favorite because of their convenient storage and transportation. Moreover, these can be put together and brought down instantaneously without requiring any tools. One disappointing factor is the lack of major mounting holes such as those for a peep sight. The bow also doesn't have an arrow rest.
Speaking of the overall bow length, we found it a little shorter as compared to other recurve bows for novices. It is 53.5 in. whereas, the average length should be twice the bow's draw length or greater. Luckily, there were no issues with the bow length when our team members with varying statures tried the bow.
This time we jumped onto the 40-pounder bow and things were quite interesting. The draw was super smooth. However, the bow is pretty loud and gave some of the archers a slight hand shock during the initial tries. It was not bothersome after a couple of shots.
The bow offered immense power for every shot and with 40 lbs. pull weight, we got the most accurate shot at 45 yds. max. Some of the team members couldn't hit beyond 30 yds. due to weaker draw pull. Overall, it worked great for adults. Kids might find it difficult to keep the arrows stable because of no arrow rests. Though you can add stick-on arrow rests.
As a whole, the D&Q Archery bow set is a great bang for the buck when it comes to buying the best recurve bow for beginners. Though it has some loopholes such as average-quality integrated arrows with plastic fletchings and no bushings for attachments, it would fit the needs of newbies who like to use the bow for smaller distances with lesser attachments.
Strength
Accurate at great distances
Comes with protective gear such as an arm guard and finger tab
Smooth draw
Weakness
No arrow rest
No holes for primary attachments
11. PSE ARCHERY Pro Max Right Hand Bow Set – Best Beginner Recurve Bow For Kids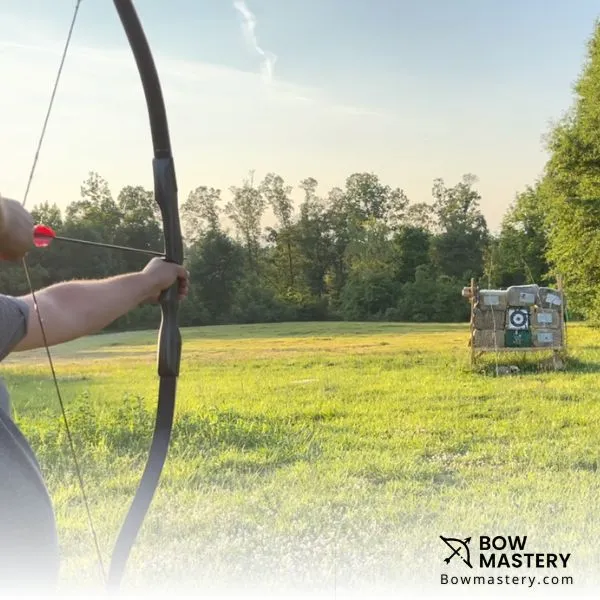 From high performance to safety gear for kids, PSE archery comes with the best recurve bow for beginners. The features that make it kid-friendly include the fixed pull weight of 25 lbs. and a decent 28 in. draw length. Since the bow is tailored to fit the needs of right handed archers, it cannot entertain lefties.
Considering the overall bow size of 62 in., it is the average size for beginners hence, kids can easily manage it. In case a kid cannot manage the overall length, you can swap the detachable limbs with slightly shorter ones.
You wouldn't want to spend separately on useful accessories, would you? Especially when you are purchasing a bow for kids. To save you from that nuisance, this product includes everything such as three carbon arrows, quiver, finger tab, arm guard, stringer, and an adjustable sight.
This test was performed with a young scout because of the lesser draw weight. The little archer started shooting from 10 yds. and achieved high accuracy at the 8 in. foam target. We kept increasing the distance randomly.
The best results were achieved at 27 yds. The max distance he shot was 30 yds. which is too much for a beginner kid. He got 12 in. groupings at this yardage. We used the same arrows that came with the package and these were surprisingly good for under 15 yds.
The PSE Archery Pro Max impressed the entire crew in every way possible. Be it the quality or performance, price point or useful accessories, it knows how to satisfy the customers fully. The only downside is that it won't suit the archery or hunting requirements of adults because of its lesser draw weight.
Strength
User friendly ergonomics for beginners
Perfect performance for backyard archery
Comes with every accessory a newbie needs
Weakness
Not suitable for longer distances due to fixed pull weight
12. STEINBRÜCKE Right Hand Bow – Best Lightest Recurve Bow For Beginners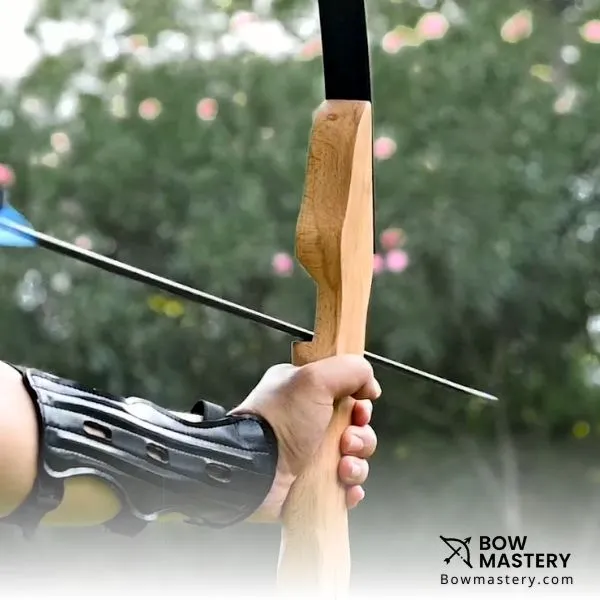 Looking for cheaper alternatives to products like TIDEWE Bow and Arrow Set? This package from STEINBRÜCKE has got your back. Crafted with durable materials to offer longevity, this bow can be used by amateurs without any complications.
It offers two pull weights i.e., 30 lbs. and 40 lbs. to choose from based on your shooting criteria. The specification which makes it stand out from other choices is its extremely lightweight at 1.75 lbs. The bow measures 54 in. overall in length which means, it can cater to users having draw lengths from 26 in. to 28 in. max.
The package comes with everything that a first-timer would need. This will not only save you a couple of bucks but also get you the right accessories. These include 10 fiberglass arrows, a quiver, an arm guard, a finger guard, and 5 target papers.
Our team members tested both variants. With the 30 lbs. pull weight, the archer could hit the target with max accuracy at 25 yds. Whereas with the 40 lbs. draw weight, we achieved the best accuracy at 30 yds. The expert in our team suggested the 15-strand fast flight and it resulted in exceptional speed with a smooth draw.
You cannot expect a budget bow package to offer everything premium. That said, the arrows included come with plastic fletchings hence, don't offer the desired results. The archer in our team replaced these with carbon arrows having turkey feather fletchings.
Apart from the average arrows, there is nothing that would demean the overall value of this amazing bow set. It works tremendously for kids and teens who just stepped into the world of archery.
Strength
Wooden riser reduces vibrations
A complete package for less money
Extremely lightweight
Cushioned arrow rest
Weakness
Arrows have plastic fletchings
Buying Guide
Choosing the best recurve bow for beginners from a variety of options with different specifications can be intimidating. Keep in mind the following key considerations before purchasing so you know what you are paying for.
1. Bow Size
The overall length and weight of a recurve bow account for its total size. Lightweight bows are highly recommended for a better and firm grip throughout. As a first-timer, you won't have much experience in holding the bow for prolonged hours. That is when the lighter bows will prevent you from muscular strain. Heavier bows can cause hands to shake and ultimately impact accuracy. The best bow weight for beginners is up to 3 lbs. max.
The total length of your recurve bow should be twice as much as the draw length. For instance, if you opt for 30 in. draw length, the bow should measure at least 60 in. or more. Typically, longer bows promise greater accuracy.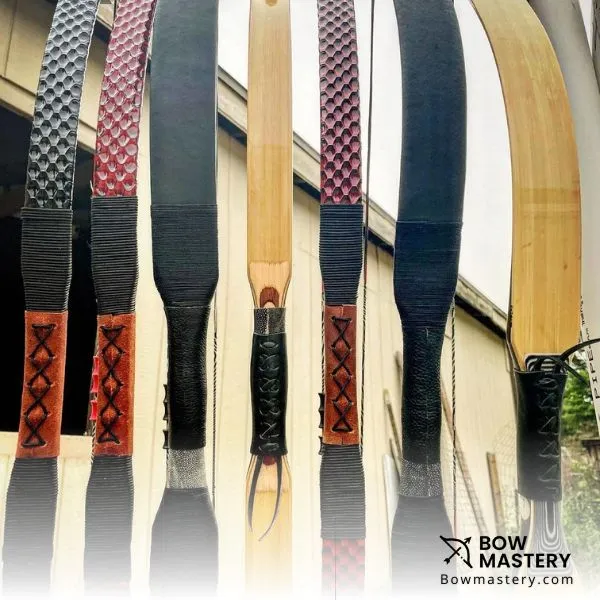 2. Draw Weight
This factor refers to the amount of force you are required to apply to pull the arrow. Traditional recurve bows generally have greater draw weights as compared to other modern bows. The farther you pull the string back, the heavier it gets.
An adult newbie with average stature and strength would easily manage a draw weight of 40 to 45 lbs. Whereas, teenage kids, women, and other adults with lower strength should start with a draw weight lesser than 40 lbs.
3. Draw Length
It dictates the distance between the bow riser and the string as you fully draw it. Draw weights vary from person to person and you should carefully measure yours. You can do this by stretching out both of your arms and measuring the distance from the tip of the middle fingers of one hand to the other. Now divide the value you got by 2.5 and this will determine your draw weight.
Make sure to not go for the draw length higher than what you have measured. Based on these measurements, you can choose the right arrow for your bow. It should always be an inch or two greater than your draw length. For instance, if you got 30 in. of draw length, it is best suggested to use 31 or 31 in. arrows.
4. Hand Orientation And Eye Dominance
Most novice archers overlook this factor which leads them to future misery. It is probably because they get confused about how hand dominance works with bows. Let's put it simply, for a right handed bow, you will hold the riser in your left hand and pull the string with your right hand. This is for people with right hand dominance.
Contrarily, the left handed bow is supposed to be held with your right hand while the string is pulled with your left hand. People with left hand dominance prefer these bows. Now choosing right handedness also comes down to your dominant eye. It is better to pick the hand orientation based on your eye dominance.
Figure out which of your eyes has better focus by making a triangle with both hands. Now aim that triangle at any nearby object for example a wall clock. Look at the clock through a triangle. Close one eye and see if the clock stays in the middle of the triangle or not. Now do the same with the other eye. The eye with which the object remains in the middle of the triangle is your dominant eye.
Some people are righties but their left eye sees better. Such users are recommended to choose a left handed bow and vice-versa for lefties with right-eye dominance. Clarity and accuracy are far better than just pulling the string. Your off-hand can easily learn to draw the string with a little practice but your non-dominant eye cannot.
Conclusion
As a newbie, the last thing you would want to do is purchase a low-quality bow for the sake of a cheaper price. Doing so will end you up in future misery. So, it is rather suggested to make a one-time investment which will last long. Choosing the best recurve bow for beginners doesn't depend on the price point but the key factors.
The right pull weight, draw length, bow size, accuracy, and hand orientation are what make your choice worthy. Based on these factors and after months of research, the best recurve bow for beginners is the Samick Sage Archery Takedown Bow. From high-end performance to a fair price point, it can be the best choice for a long-term investment.
Frequently Asked Questions (FAQ's)
What is the difference between a one-piece and a takedown recurve bow?
A One-piece recurve bow is a single-construction longbow. It is pretty light in weight but less strong. Take down bow on the other hand has limbs that can be dismantled. It offers easy storage and transportation. However, these are a bit heavier as compared to the one-piece bows but a lot sturdier.
What is the best draw weight for hunting with recurve bow?
A recurve bow with 40 lbs. or more pull weight can be used for hunting big game animals such as deer, elk, etc. For smaller animals, bows with 30 to 35 lbs. draw weight would suffice.