Over the years, bowyers and bow manufacturers have improvised crossbows in several ways for better performance and accuracy. The newer crossbows are more powerful and travel faster than the older ones. However, the overall performance comes down to one common question i.e. how far can a crossbow shoot?
There are a couple of factors that directly impact the max range. For example, crossbow bolt speed, weight, draw length, weather conditions, and more. However, the average crossbow shooting range regardless of the factors is between 70 to 80 yds. for exceptionally skilled archers. Whereas, occasional archers can shoot 35 to 45 yds. The longest crossbow shot to ever record was 680 yds. in a target archery field.
Whether you are a hunter or an archer, it is important that you release your shot with high precision so that it hits the right spot. While there is an average shooting range of a crossbow, let's learn how it varies in different situations.
CrossBow Shooting Range In Different Conditions – How Far Can A CrossBow Shoot?
Shooting conditions ultimately impact how your crossbow performs. To understand how far can a crossbow shoot, you must understand the effective range. Whether it is hunting or archery, never overlook the effective range of a crossbow.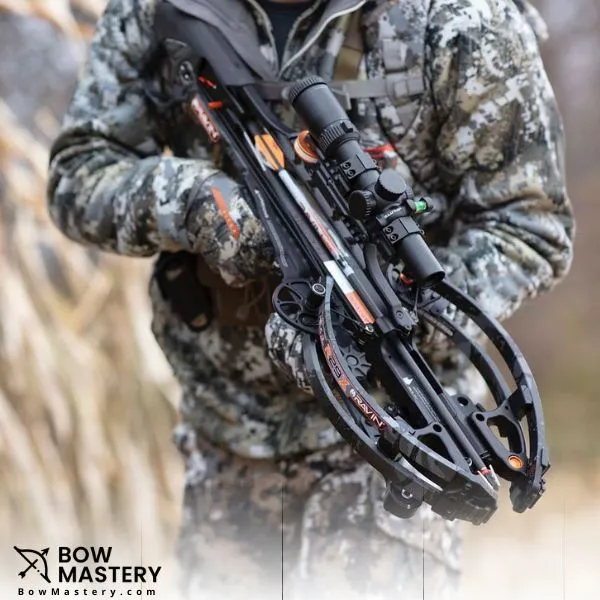 Sometimes, even after shooting from the recommended distance, you can end up with poor shots. This happens due to the potential obstructions affecting the flight of an arrow. Following are some valuable tips and tricks to overcome such issues and achieve high accuracy.
What Is The Effective Range Of A Crossbow?
The effective range is the distance that tells how far a crossbow can shoot an arrow to make ethical shots. It has more importance in hunting since no one wants to hurt the animal with poor shots that only injure it.
Steadiness and accuracy play an essential role in hitting the vital organs such as heart or lungs of game animals. The most effective range of a crossbow is 40 yds. when you use it with a crossbow having the standard fps i.e., 280 to 350.
What Is Crossbow FPS?
FPS, short for feet per second, determines how fast do crossbows shoot. When a crossbow is said to have 280 fps, it means that the arrow shot from the bow will cover a distance of 280 feet within a second. Moreover, the arrow maintains its trajectory and momentum during the entire flight.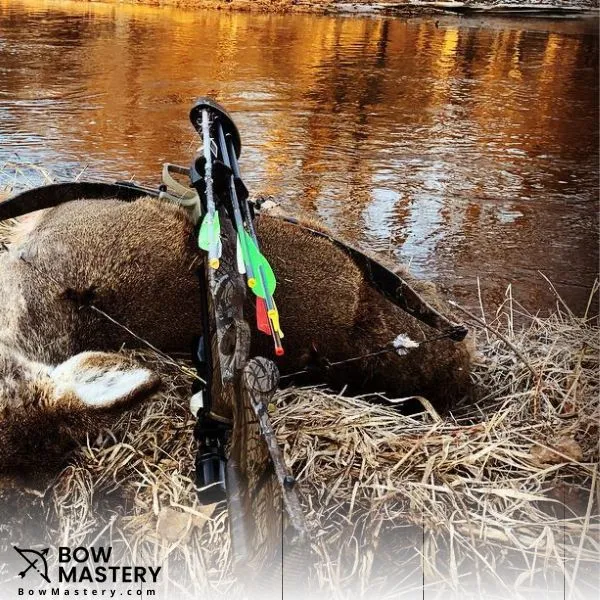 The average crossbow fps ranges between 280 to 350. However, some latest and highly advanced models can even offer over a whopping 400 fps. Remember, the higher the fps of a crossbow, the better it will be, especially for hunting down a buck.
This ensures an effective crossbow shooting range in no time while also preventing the game animal from prolonged harm from an injury.
CrossBow Effective Range For Hunting
When used with a crossbow having over 300 fps, the most effective crossbow hunting range is 40 yds. This tells how far a crossbow can shoot so that you can hit the animal in its vital organs.
Some highly skilled and experienced professionals can also hit ethical shots at 50 yds. range. Speaking of the modern crossbows, most of them are designed to travel as far as 90 yds. However, this distance is highly unethical for shooting an animal.
Factors Affecting BowHunting
Deers are highly sensitive to human fragrance and sound. They can sense threats from miles away and once they do, they will bounce back to a whole different county. Therefore, you must be very careful with using crossbows.
As you fire the shot, the crossbow would make a sound which if heard by the deer, would spook it easily. That said, the fire rate should be impeccably fast to hit the animal before it runs within a millisecond.
Furthermore, a buck never stays in a single place for a long time and is highly aware of all the danger around. Therefore, you must understand deer trails and behavior before setting the shooting stand. If you wonder how many fps crossbow to kill a deer then, any crossbow having 250 or more fps would do the job.
It is important to understand where to shoot a deer with a crossbow so that you get the killshot in one go. The place to shoot a buck is in the Bungee triangle. It starts from the shoulder blade on top and as you follow it down, you get the upper part of the limb and connecting the dots gives you a triangle.
Within this triangle are the vital organs i.e., heart and lungs. If you shoot down on the deer, it would be high on the triangle. Whereas, if you shoot it straight from a blind or a treestand, the shot would hit the middle of the triangle.
Obstructions
When hunting, there are numerous obstructions that could come in the way. If you are not at the right distance, you won't see these obstacles and end up with unsuccessful shots. Being at the right location and distance can help you figure out the obstructions in the way. These include wind factor, elevation, arrow speed, and more.
While using crossbows with more than 400 fps, the arrows lose some of their speed as they get past 50 yds of elevation. For example, if you use a 400 grain arrow with a 400 fps speed at 100 yds., it is likely to drop at a height of 93 inches.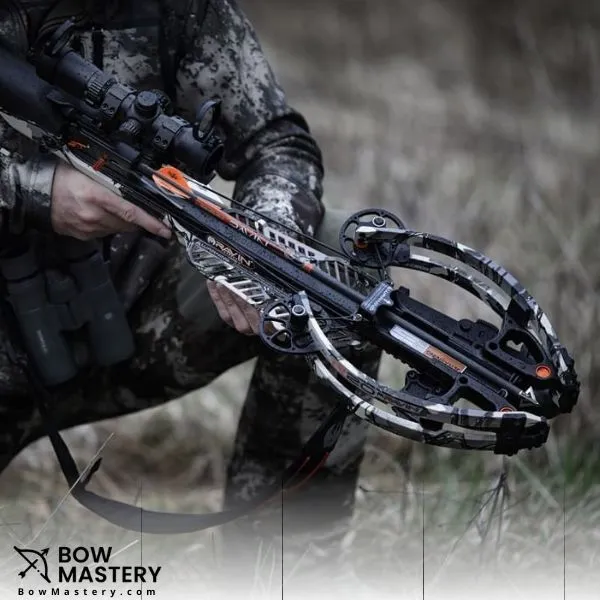 Considering this, it is crucial to have a clear path between the shooting stand and the target not only in terms of distance but height as well. When using a high fps crossbow at 100 yds., ensure that the area is clear up to 7 ft. of elevation.
Another great obstacle to successful hunting is a blunt arrow. Despite hitting at the right spot, blunt broadheads of an arrow would fail to kill the animal, resulting in a hurtful wound. Therefore, it is crucial to have a razor-sharp arrowhead that penetrates the deer's skin deeply. The 400 to 459-grain arrows are best suggested for game animals.
Make sure you are at the right distance and the path is clear. This will help you to not only shoot at the most effective crossbow range but also hit the deer in its vitals.
CrossBow Effective Range For Target Practice
When it comes to target shooting, the effective range is entirely different because there isn't any live target to shoot. When using a crossbow over 300 fps, the arrow shot can easily penetrate the compressed foam target from as far as 180 to 200 yds. away.
Since you don't have to worry about any ethical concerns while target practicing, you can easily perform long range crossbow shooting. For amateurs, hitting the bull's eye from such a distance would be only a dream, however, some highly skilled professionals might get closer shots.
The true effective range for target practice is the distance a bolt will travel as shot from the crossbow. Some latest models are capable of shooting the arrow as far as 400 to 500 yds.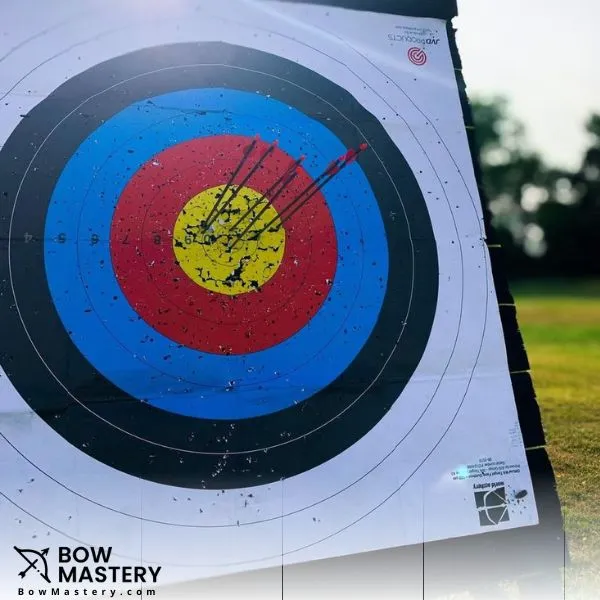 What Is Crossbow Trajectory?
After the arrow departs the bowstring, it is subjected to gravity (pulling it down to the earth) and atmospheric drag (which slows it down). This is referred to as the trajectory in arrow flight. The arrow constantly slows down and descends toward the ground as it moves downrange. The farther it moves, the faster it descends.
It is important to keep in mind that the trajectory and velocity of an arrow deteriorate as it reaches a certain distance. While using a 350 fps crossbow with a 400-grain arrow, the following are the different heights where it is likely to drop:
At 20 yds: 0 inches
At 30 yds: 3.81 inches
At 40 yds: 10.81 inches
At 50 yds: 21.81 inches
Remember, the longer the distance, the more significant drop in the trajectory will be. A pro tip: Measuring arrow length is key to find a suitable arrow as per your draw specifications.
Ways To Improve The Effective Range Of Crossbow
As a new shooter, you can encounter some issues in accuracy while shooting at the effective crossbow range. Knowing how far a crossbow can shoot is important, some useful ways can help you improve this range.
Use Good Quality Scope
Scopes enhance accuracy incredibly. So, invest in a high-quality crossbow scope. You can find scopes with different reticle ranges. For example, many go up to 60 yds. with 10 yds. increment. These scopes can be a good choice for hunting. Whereas, some top-end models also go up to 100 yds. Such scopes are best suited for longer-range target shooting.
Choose The Right Arrows
Shooting with the right bolt that is best compatible with your bow makes a huge difference. From great accuracy over long-range to easy penetration, these arrows work amazingly. Closely pay attention to the materials use, parts of an arrow including fletchings, and length of a bolt while purchasing. For hunting purposes, you must also look for the sharpest broadheads so that it easily penetrates and kills the animal right on the spot.
Take Care Of Your Crossbow
To maintain the consistency and accuracy of your crossbow, make sure to take good care of it. You can do this by lubricating the rail to reduce friction, waxing the cables and strings for smoother operation, and tightening the nuts and bolts. Make sure to do this all with your crossbow after every use and don't forget to remove any kind of dust and debris accumulated on it.
Practice, Practice, And Practice
Lastly and most importantly, do lots of practice to achieve perfection. Make your practice productive and fun by taking a buddy along. Make sure to work on different distances so that you gain advanced skills. You will ultimately know what length arrows do you need If you are a hunter, it is suggested to practice shooting in hunting conditions to minimize inaccuracy.
Conclusion
Out of all the types of bows in archery, crossbows are considered most technical and have specific state laws that define its usage and limitations.
Be it hunting or archery, every shot from your crossbow counts. As a bowman, it is your responsibility to understand how far can a crossbow shoot, regardless of the activity you perform. Crossbows are accurate and consistent. With some practice, you can excel in your skills and shoot at the bullseye.
Taking the right shot leads to higher chances of greater harvest during hunting. The effective shooting range for hunting is 40 yds. However, for archery, good execution will result in shooting the arrow right in the bull's eye. The effective range here is quite larger i.e., up to 400 to 500 yds.
After determining how far can a crossbow shoot, maintain the appropriate distance between the shooting spot and target. Shooting from an effective range will also lower the chances of variables impacting accuracy.
Frequently Asked Questions (FAQ's)
From how far can a crossbow kill a deer?
40 yds is how far can you shoot a deer with a crossbow. It is the The most ethical distance to get the killshot. Distance more than this might not result in a lethal shot instead would injure the animal. 
Can a crossbow shoot farther than conventional bows?
When it comes to how far can a crossbow shoot as compared to a conventional bow, crossbows don't win. Because of lesser draw weight and longer draw length, conventional bows shoot farther than the crossbow. Even with the same energy, a conventional bow will shoot roughly 2x times farther than a crossbow. 
How to shoot a crossbow accurately?
The key to accurate shooting with a crossbow is maximum comfort. If it's too bulky for you to hold and aim steadily, it will impact the accuracy. For high precision, make sure to know your distances and aim at the appropriate points.
Also, you must practice immensely before going into the field. If you wonder how accurate is a crossbow, the modern models can get the bull's eye shots every time from a safe distance of 20 to 40 yds. 
What is the most accurate crossbow at 100 yards?
You can find a wide range of crossbows in the market with varying accuracy. However, the two best choices for exceptional accuracy at 100 yds. include Excalibur Crossbow Matrix Bulldog 400 4400 with Tact-Zone and Ravin R10 Crossbow Package R011 with Scope. 
What does a crossbow shoot and how to fire a crossbow?
You shoot arrows or bolts with a crossbow. Firing a crossbow is quite easy, you just have to keep your aim steady. Look and aim at the target, pull the trigger back slowly and as it breaks, release it. The arrow will fly towards your target. 
Related Topics