Did you just set up a compound bow and want to learn its basics? We are here to help. Before anything else, it is advised to understand and practice how to aim a compound bow. If you know the right stance and aim at the right point, you will ultimately learn to properly draw and shoot with the bow as well.
Just like any other bow, you can aim this one using sights or without them. However, what should remain constant is an appropriate archery stance for compound bow shooting. It is when the archer's feet distance aligns with their shoulders in width.
A compound bow has numerous bushings for sights and other attachments that help in keeping it stable while aiming and shooting. Learn from our detailed guide by experts about how to aim with a compound bow in various ways.
Bow Aiming Essentials – How To Aim A Compound Bow?
Using a compound bow could be a lot easier than traditional bows for a variety of reasons. Along with the right stance, the archers should also be careful about the bow grip. Make sure to hold the compound bow in a way that it rests on the pad of your thumb (thenar eminence).
In case you don't know how to use your dominant eye and close the other yourself while aiming, you can invest in the archery eye blinder. It is a small square piece of cloth with a band. People can easily wear it around the head to cover their non-dominant eyes.
Following are the techniques that will help you to be more accurate with a bow regardless of sight. Carefully understand all the tips and incorporate these in your practice sessions. Once you master the skills, you can easily head to the hunting grounds or participate in shooting competitions.
Bow health and maintenance is compulsary for accurate shoot. For that, you need to wax your bow regularly. Learn how often should you wax your bow string.
How To Use Sights On A Compound Bow?
The bow sight aiming method could sound tricky unless you understand it completely and practice. When using sights, the top goal should be to adjust these rightly and understand what the marks on them mean.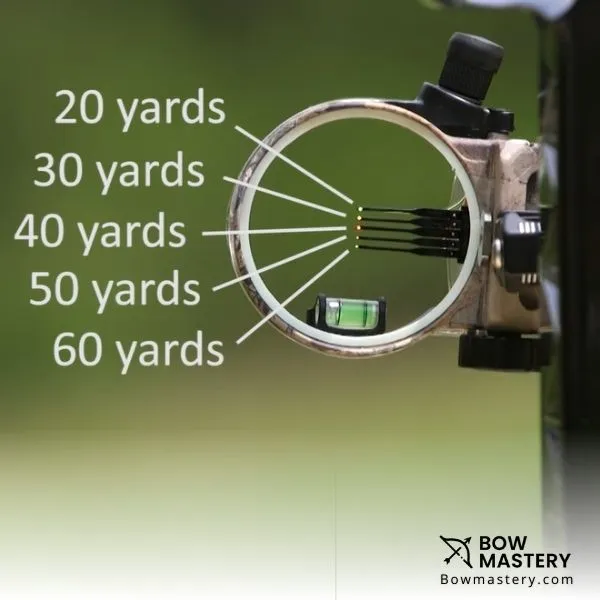 Sights For Compound Bows
Before knowing how to aim a compound bow, let's have a look at the different types of sights used.
Single Pin Sights
Even though quite an old-school version of sights, these are easy-to-adjust and work great for great distances. The pin on the sight is movable and you can set it accordingly.
There is a ring present on the opposite side that is turned to adjust the sight. Since there is only a single pin, it doesn't clutter with others which usually confuses the new archers.
Speaking of the downside of the single-pin sight, you have to set it before drawing. So, if you set it for a particular distance but your target moves, you have to release the draw, adjust the pin, and redraw it again. This doesn't come in handy when you have to shoot instantaneously.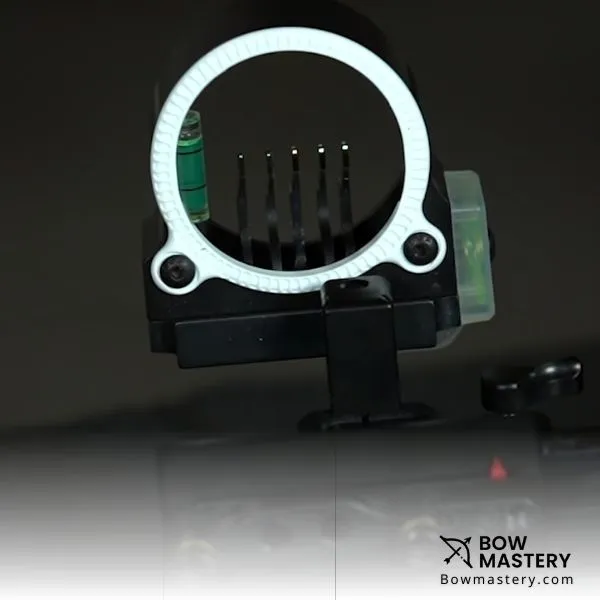 Multi Pin Sights
These feature multiple pins i.e., usually 3, 4, 5, or even 7 pins, specified for different yardages. Every multi-pin sight starts with a 20 yards pin with a 10 yards increment per pin. Check this compound bow sight picture below to have an idea.
That said, 4 pin bow sight distances start from 20 yards and go up to 50 yards. Whereas, a 5 pin bow sight distance will range from 20 yards to 60 yards.
But, what if your target is between these values? For example, if the target is at a distance of 25 yards, you will have to judge the points and adjust the sight accordingly. The choice comes down to how far you shoot.
Rangefinder Sights
Some top end companies like Garmin have used the latest technologies right and rolled out sights with a built in rangefinder. These high-tech scopes determine the distance for you so that you can aim with better accuracy.
The glass display houses a reticle and you have to adjust the red-colored dot pin inside the reticle. If the pin isn't inside it, you won't be able to aim correctly. If you fail to fit the pin within the reticle, the sight has the feature of a fixed pin for different yardages.
Unfortunately, not all US states allow rangefinder sights. For example, Washington, Colorado, Idaho, Oregon, and Montana have outlawed its usage.
Non Adjustable Sights
As the name refers, these sights have fixed pins that you cannot move. It looks exactly like an adjustable multi-pin sight but is not movable.
The pins in this peep are coded with different colors and specified for a variety of yardages. This saves you time calibrating the pins when the target arrives.
But, you can move the sight left or right to aim at the right point. These sights are commonly used by various archers and bowhunters. Thanks to its high accuracy, users get great results after extensive practice.
How To Sight In A Bow Without Shooting It?
Never get too excited to shoot the bow unless you have properly sighted in the peep and aimed correctly. Doing so will end up with poor shots with no development of a useful skill set. The series of steps that help you sight in a compound bow for superb aiming are as follows:
Prepare Yourself
The first thing before you lift your bow is to relax. Take a deep breath, do some stretches, and make your body tension-free. Once you are completely relaxed, grab your bow. As mentioned earlier, you should grip the bow in a way that it comes in contact with your thenar eminence comfortably.
Now make the proper shooting stance by standing straight with your legs apart in line with the shoulder-width. Make an exact 90-degree angle with your target regardless of the distance.
Step your dominant foot a few centimeters ahead and balance your weight equally on both feet. The target should be parallel to the outside edge of your leading foot. Do not lean on any part of your body, stay upright and firm throughout.
Draw The Bow
Pick the arrow and nock it on the bowstring appropriately. It is one of the best compound bow shooting tips to relax your hand and wrist while drawing the bow. The three most
common anchor points while using a compound bow include your mouth's corner, cheekbone, and below the ear, or neck.
If you are using a release aid, the corner of your mouth won't be the anchor point. As you bring the bowstring near your face, align the sight accordingly at the target and find the corresponding anchor point.
Sometimes, bow string start to damage and cause a misplaced shot. This happens with excessive and aggressive long range shooting without waxing strings. In that case, you may need to replace bow strings. Check how much it costs to restring a bow.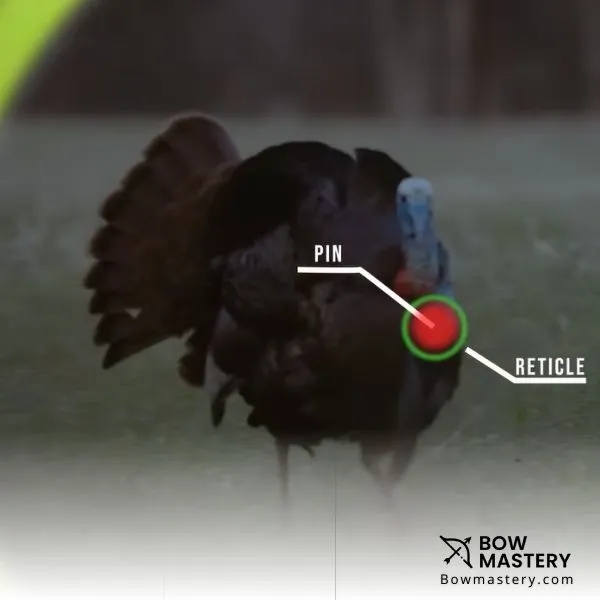 Use The Sight
Whichever type of compound bow sight you have, it is important to align the right into the bullseye of your target. If you are using sights with adjustments for various distances, make sure to peep through the right one.
Aim At The Target
Once you have aligned the pin with the target, keep the bow steady and your eyes on the target. Finally, release the arrow and determine where it landed. Practice as much as you can to master the art of accurate archery or bow hunting.
How To Aim A Compound Bow Without Sights
If you are looking for compound bow tips for beginners to aim like a pro, understand the methods explained below.
All of these methods are easier on a compound bow than other traditional bows. It is because you don't have to apply the same effort for the draw throughout aiming, thanks to the let-off feature. It is when the bowstring reaches the maximum draw and locks itself, allowing the archer to apply less force for the same draw weight.
Almost every expert archer or bow hunter started off their journey following either of the following approaches.
String Walking
It is a compound bow technique where you choose different grips on the bowstring to achieve the best accuracy. When you don't have a sight to aim, focus on the tip of the arrow and overlap it with the dead center of the target.
If the arrow hits below the bullseye while you aim at it, slide the grip up on the bowstring. There are some finger tabs with markings on them, especially for string walking. This helps you determine the right place for the grip every time you aim.
Face Walking
In this method, you move your anchor points near the face instead of the bowstring. Just like you slide your hand on the bowstring according to the point of aim, you move your hand up or down the face in this method.
Line the tip of the arrow with the target and if it doesn't hit the dead center, move the hand accordingly. For example, if you aim at the center but the arrow hits above it, move your hand down the face.
You might also have to change the anchor points for different yardages. It is better to remember the main points and practice frequently at similar distances. This will help you build muscle memory for that particular yardage.
Gap Shooting
This technique also involves focusing on the arrow tip at the target and shooting. Begin with aiming from 5 or 10 yards, aim at the center of the target, and shoot 4 to 5 arrows at the same point. It is most likely that the arrows won't hit the dead center but above or below it.
Measure the length between the arrow groupings and the target center. Perform this practice for multiple yardages such as 20, 25, 30, 35, and as much as you want. Group a couple of arrows at each distance and measure the length from the center.
Now if you get a gap of 15 inches above the center at 10 yards, you must aim 15 inches below the bullseye for an accurate shot. This is how you can practice shooting with precision at various distances without sight.
Instinctive Shooting
This is the oldest method of learning how to aim a compound bow. When performing instinctive shooting, you don't aim at the arrow's tip but constantly look at the desired area where you want the arrow to hit.
It is the most challenging technique if you wish to understand how to shoot a compound bow and arrow without sight. However, with regular practice, you can definitely train yourself to aim perfectly for instinctive shooting.
All of these shooting technique are great. For hunting, you should keep your bow quieter and choose shooting style accordingly. Read how to make a bow quieter for better hunting experience.
How To Properly Shoot A Compound Bow?
When it comes to learning how to shoot a compound bow accurately, you must aim it correctly. Alongside this, an appropriate shooting stance plays a vital role.
Once you have locked an aim at the target, make sure your feet are still shoulder-width apart and perpendicular (making a T shape) to the arrow. As you draw the bow completely, your hips should be in a parallel position to the arrow.
Conclusion
Despite having greater learning curves, modern compound bows have advanced features that make the process extremely fun. Its compatibility with numerous attachments makes the bow quite manageable. However, you should master the skills with or without the attachments.
That said, it is important to learn how to aim a compound bow regardless of the availability of peep sight. Make sure to maintain a proper posture while aiming and shooting. The key to successful archery is loads of training following the right methods.
Frequently Asked Questions (FAQ's)
Can you shoot a compound bow without a release?
Yes, compound bows feature a barebow division with allows the archers to shoot the arrows without a release aid. 
How to sight in a compound bow 5 pin peep?
As the name suggests, this type of sight comes with 5 pins allocated for particular yardages i.e., from 20 to 60 with 10 yards increment. Depending on the distance, you should peep through the sight and align the pin with the area on the target that you wish to shoot. 
Also Check