Compound bows are among hunters' most favoured weapons, as they come in both left-handed and right-handed orientations. However, finding the best left handed compound bow is a slight challenge because very few manufacturers have bows with this hand orientation.
Beginners Best
Pandarus Left Handed Bow
Best bow for left hand beginners.
Comes in variety of colors to choose from with changeable draw weight and length.
This bow is made for beginners with not so aggressive use.
Best to use occasionally 20-30 shots each time.
Youth Bow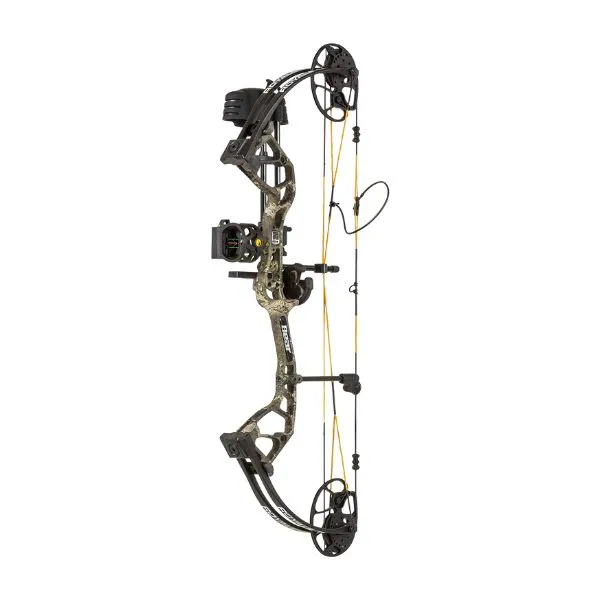 Bear Archery left handed Bow
Youth compound bow best suited for women and youngsters.
The bow come pre assembled in a box.
Check your draw length and weight and order accordingly.
Easy to adjust draw length and draw weight using allen wrench.
Highly Adjustable
Diamond Archery left Handed Bow
Highest draw weight adjustability recorded.
Best bow for price and number of features offered.
Overall bow is great but I needed to cahnge the sight with a better one.
Arrows need to be bought separately as per your draw.
Out of all the amazing choices discussed below, the Pandarus Compound Bow received the most appreciation. Rightly so, this hunting bow is equipped with everything you need to take down game animals regardless of their size.
8 Best Left Handed Compound Bow 2023
If you're searching for the perfect left handed compound bow, reading this article is a must! We've chosen only our top picks so that your next hunt will be outfitted with the best weapon.
PANDARUS Compound Bow – Best Left Handed Bow And Arrow For Deer Hunting
Beginners Best
Draw weight: 15 to 29 lbs.
Draw length: 19 to 28 inches.
Arrow Speed: 260 fps.
Weight: 2.5 lbs.
The PANDARUS compound bow is the ideal choice for archers at the beginning of their journey. It stands above its competitors due to its remarkable quality and user experience. Our left-handed hunters had a fantastic time using this bow when deer hunting as it provides an impressive 30 lbs. draw weight.
However, its limited draw weight is a drawback for many hunters looking to hunt giant game such as moose, elk, or bear. It has an adjustable draw length of 19 inches to 28 inches and a speed of up to 260 fps at 29 lbs. draw weight. It may not seem like much to some hunters, but those who are avid deerstalkers will appreciate its lethality and reliability.
With this bow, you'll receive all the necessary items to begin shooting right away; a bow sight and five braces aid in assembly, an arrow rest, a protective guard, 12 arrows, and a quiver are included for your convenience. The bow sight is on the lower end; however, you can take it up a notch and purchase an upgraded model for added accuracy and precision.
Pros
Ideal for new hunters.
Adjustable draw length.
Lightweight and easy to carry.
Cons
Unfit for hunting big game animals.
Bear Archery Royale Bow – Best Left Handed Youth Compound Bow
Youth Bow
Draw weight: 5 to 50 lbs.
Draw length: 12 to 27 inches.
Arrow Speed: 290 fps
Weight: 2.7 lbs.
The Bear Archery Royale is the best compound bow for young left-handed archers. Its compact design and easy manoeuvrability make it a suitable option for young people in archery. It has a relatively limited draw weight of 5 to 50 lbs.
However, this draw weight is suitable for medium game hunting like deer. Unfortunately, taking down mighty animals like elk, moose, and bear isn't possible with this bow.
This bow can be your ideal bow, as it offers an easy draw weight that makes hunting a breeze. What impressed us greatly is that it doesn't require any special tools to adjust, such as a bow press kit.
Additionally, this bow has a remarkable shooting speed that is perfect for youth looking to have an enjoyable initial experience. Additionally, it comes with a Ready-To-Hunt package which includes all of the necessary accessories for hunting.
Pros
Highly versatile.
High adjustment abilities.
Bow press isn't required.
Cons
Requires accessory up gradation for better precision.
Not suitable for adult hunters.
Diamond Archery Edge 320 Bow – Best Premium Left Hand Compound Bow
Highly Adjustable
Draw weight: 7 to 70 lbs.
Draw length: 15 to 31 inches.
Arrow Speed: 320 fps
Weight: 3.6 lbs.
The Diamond Archery Edge compound bow stands out from the crowd thanks to its outstanding adjustability and attractive price tag. It is lightweight on the pocket but heavy in power for even the toughest kills, making it perfect for both beginners and experienced hunters alike.
This bow is suitable for all archers regardless of size and strength, boasting a draw length from 15 inches to 31 inches and a shooting speed of 320 fps. It also features rotating modules that offer 3 distinctive settings, including the special Infinity/Bow fishing setting.
This attribute allows the bow to perform at zero let-off and offers consistent overall weight throughout each drawn cycle. It comes with a Pin Tundra Sight, Hostage XL Arrow-Rest, DeadLock-Lite Octane quiver, tube sight, BCY string loop and the 5 inches Ultra-lite Octane Stabilizer that will make your archery experience great.
Moreover, when set on its highest setting, this powerful weapon holds an exceptionally high KE value making it highly capable of taking down large game while still retaining accuracy with lower KEs at lower settings, perfect for harvesting small game.
It's incredibly comfortable and lightweight, so you can shoot for extended periods of time without feeling weighed down.
Pros
Suitable for beginners and experts.
Features rotating modules.
Includes special infinity or bow fishing setting.
Cons
A bit noisy when shooting arrow.
Bear Archery Cruzer G2 Compound Bow – Best Left Handed Womens Bow
Top Choice
Draw weight: 5 to 70 lbs.
Draw length: 12 to 30 inches.
Arrow Speed: 315 fps
Weight: 3 lbs.
The Cruzer G2 is the perfect choice for adults who are new to archery or hunting. With an adjustable draw weight and length, this bow offers a fast shooting speed with supreme accuracy which is up to 315 fps.
A woman from our team put this compound bow to the test, and it did not disappoint at all. With an impressive 5 to 70 lbs. draw weight, plus a 12 to 30 inches draw length that functions exceptionally well, she was able to take down animals like elk, deer, turkey and even moose with ease.
It also has a Draw Dial rotating module, which provides deadly performance, and its quad limb ensures maximum comfort while holding it at full draw. On top of that, its ergonomic design ensures ease of use for women who love hunting.
This bow offers smooth and quiet operation via its RockStops suppressor. It works well for left- and right-handed shooters because its mild cam design provides an easy draw cycle.
In addition, it comes with several accessories like the sight, stabilizer, quiver, plus sick reticle with night wrist wrap & illumination features as well as nook. All of which make this bow perfect for hunting fast animals.
Pros
Draw Dial rotating module.
Advanced grip design.
Lightweight.
Cons
Need tweaks before use.
Has a plastic body.
Diamond Archery Edge SB1 Bow – Best Left Handed COmpound Bow For Elk
Editor's Pick
Draw weight: 7 to 70 lbs.
Draw length: 15 to 30 inches.
Arrow Speed: 318 fps
Weight: 3.6 lbs.
The Edge SB 1 is a compact bow designed with hunting and target shooting in mind, offering an axle to axle length of 31 inches. It has flexible limbs from 7 to 70 lbs., providing flexibility for different levels of draw weight and 15 to 30 inches draw length adjustment. With the high draw weight and speed, we packed two elks and a moose.
The Edge SB-1 is engineered with a robust and solid machined aluminum handle for a superior size-to-strength ratio. This unique design offers an 80% let-off, allowing you to hold only a few lbs. of peak poundage for exceptional comfort when aiming.
Its cam system is pre-set at a 30-inch draw length. It features module numbers and indexing grooves that make modification more accessible than ever.
Equipped with a bolt-on, molded resin grip suitable for smaller and larger hands, this bow provides the ultimate comfort. Additionally, its binary cams make it easy to be on target quickly and accurately from the get go.
Pros
EZ adjust pocket for convenient adjustments.
Offers an effortless tuning.
Lightweight and compact design.
Cons
No silencing accessories are included.
Creative XP Compound Bow – Best Left Handed Compound Bow Package
Top Choice
Draw weight: 30 to 70 lbs.
Draw length: 24.5 to 31 inches.
Arrow Speed: 320 fps
Weight: 3 lbs.
Designed for hunting, target archery, and bow fishing, this top-performing bow offers precision and durability with its lightweight design. It features a 30-70 lbs. draw weight range, 24.5-31 inches adjustable draw length, 75% let off, and an impressive 320 fps speed that can be adjusted to suit users weighing over 100 lbs Our team took down multiple large game animals, thanks to the reliable performance of this excellent-quality product.
This package includes a 5-pin sight, sturdy stopper, string wax, paper targets, and four carbon arrows that are perfect for practice. A quiver and a rubber stabilizer are also included to round out this fantastic deal with quality components. However, if you plan to hunt large animals, it's best to invest in higher-end arrows.
Constructed with 100% aluminum, this bow's cams and modules are built to be both sturdy and safe. Free from plastic components, its high performance strings ensure fast shot speeds. 
Additionally, the limbs have been produced by Gordon Composite Inc., guaranteeing a consistently dependable level of performance and unrivaled strength for archers and bowhunters alike.
Pros
Multiple adjustment options.
Comes with everything a hunter needs.
Produce incredibly tight groupings.
Cons
Not the best arrows for heavy animals.
Predator Archery Raptor Compound Bow – Best Left Hand Hunting Bow For Large Game Animals
Editor's Choice
Draw weight: 30 to 70 lbs.
Draw length: 24.5 to 31 inches.
Arrow Speed: 315 fps.
Weight: 3.6 lbs.
The Raptor Compound Bow is the ideal pick for big game hunters, offering a draw weight of 30-70 lbs. and providing enough power to easily take down white deer, moose elk, and turkey. With multiple adjustments available at 3.6 lbs., it's easy to carry and handle for long sessions out on the hunt.
Its 75% let off rate makes this one of the more lightweight bows on the market. Incorporated in the Raptor is an adjustable draw length of 24 to 31 inches that does not require a bow press. This bow setup package is complete with an Allen tool kit, so you have all the necessary tools to configure your bow and its accessories.
With a prodigious speed of 315 feet per second, this bow guarantees accuracy and surpasses the recommended fps for all mid-sized games in North America. Its split yoke tuning system ensures accurate alignment of the bowstring, making it simple to fine tune your string path for perfect draw length and weight.
Pros
Package includes six essential accessories.
Multiple levels of adjustments.
Split yoke tuning system for accuracy.
Cons
Can be a bit complicated to operate for new hunters.
It is not the lightest option.
Diamond Archery Infinite 305 Bow – Best Adjustable Left Handed Compound Bow
Editor's Pick
Draw weight: 7 to 70 lbs.
Draw length: 19 to 31 inches.
Arrow Speed: 305 fps.
Weight: 3.3 lbs.
Get the best performance for your money with the Diamond Infinite 305 Compound Bow Package! With incredible speed, accuracy, and adjustable features, this bow is perfect for youth and adult archers.
This newly revamped cam system allows for quick, no-bow-press draw length adjustment from 19 inches to 31 inches, enabling archers to send arrows downrange at speeds up to 305 fps. It also has a generous 63 lbs. draw weight range ranging from 7-70 lbs.
With a span of 32 inches from axle to axle, this bow is effortless and elegant in its handling. It has an impressive 77% let off, so you can pull back the string easily when necessary.
Moreover, it also comes equipped with single offset string suppressors for reducing noise and vibration after every successful shot. At 3.3 lbs., it stands at 7-1/4 inches brace height, making it light enough for comfortable carrying.
Pros
Great overall performance.
No bow press needed .
Offset string suppressor reduces noise.
Buying Guide
Finding the best left handed bow from a selection of many can be overwhelming and time consuming. That's why we've created this comprehensive buying guide to help you discover the ideal professional compound bow for hunting that matches your needs.
1. Hand Orientation
When shooting a compound bow, be mindful of the designated handedness. If it was designed for left-handed archers, then hold it in your right hand and draw back with your left. In this way, you will be able to improve precision by keeping the weapon in your dominant hand.
2. IBO Speed
To ascertain the IBO Speed of a bow, an arrow weighing 350 grains is fired at 70 lbs. draw weight and 30 inches draw length. This measurement, measured in feet per second (fps), will be then recorded with a chronograph for accuracy. Hunters use this standard to compare bows, as any bow reaching 300 fps or more can be labeled fast.
3. Draw Length
Ensure that you find the bow with a draw length perfect for your body type. To guarantee comfort, accuracy, and efficiency when shooting arrows, try out different bows in-store before purchasing, so that you don't buy the wrong one.
Here is how you can easily determine your draw length.
4. Draw Weight
The amount of lbs. you can comfortably pull with your bow is known as the draw weight. It's essential to start with low poundage and gradually increase it over time. Fortunately, there are plenty of bows in the market with adjustable draw weights.
It varies from person to person; therefore, you must determine it yourself. Simply grab a luggage scale, hook it with the bow string and draw it back as much as possible. Whatever figure the scale shows will be your draw weight.
Usually hunting bows have large draw weight and pressure is exerted on bowstring. Learn how often one should change bow strings and how often should you wax your bow string.
Frequently Asked Questions (FAQ's)
Can left handed individuals use a right handed compound bow?
Although left-handed archers can use a right-handed compound bow, it will not provide the same comfort and precision as a left-handed one. Right-handed bows are created with components that cater to those who shoot with their right hand.
If you use your opposite hand, reaching for the trigger may be difficult, or your fingers may get in the way of the string's path.
Are there any disadvantages to using a left handed compound bow?
While using a left-handed compound bow has no general drawbacks, obtaining the necessary accessories like arrows and bow cases might be more challenging since they are typically designed for right-handers.
Likewise, finding an instructor or coach with experience in teaching archery to lefties could be problematic as most professionals specialise in right-handed shooting.
Conclusion
If you're searching for the best left-handed compound bow to make your next hunting excursion a success, ensure that your weapon meets all your shooting needs precisely while reflecting on the technique you want to take down the game.
During our research, we found three choices as our most favorite compound bows. These include PANDARUS Compound Bow, Bear Archery Royale Bow, and Diamond Archery Edge Compound Bow.
From having highly adjustable draw weights and draw lengths, these bows are designed for all. Moreover, the super fast speed adds to the overall performance. Whether you are a newbie to archery or an expert hunter, these best compound bows can meet all your requirements.
Make sure to choose the appropriate draw weight and draw length according to your stature as well as nature of use.